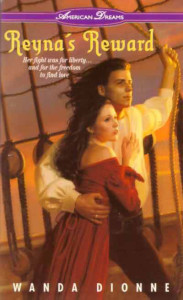 A nice gentle romance for Young Adults with lots of historical facts.
Reyna's Reward
Written by Wanda Dionne

Raised in a Spanish convent, Reyna Maria Alvaron is on her way to Louisiana and an arranged marriage to a wealthy man. But somewhere in the Gulf of Mexico the ship is seized by pirates.
1814 – New Orleans
Sixteen, and sheltered all her life, Reyna is terrified by the bold and daring Captain who holds her at his mercy. At the pirates' enclave near New Orleans, she awaits her fate – not knowing if she is to be a bride or a pirates' bargaining chip. But as war looms, Reyna finds herself a pawn in a dangerous game of intrigue between the Americans and the British. Swept into a fierce battle for New Orleans, she is inspired to fight a more personal battle for freedom…to follow her own heart.
Avon/Harper Collins
New York, New York
ISBN: 0-380-78476-9
Paperback Out Of Print