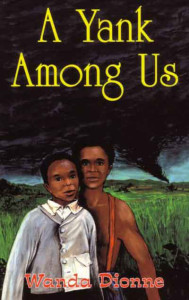 A Yank Among Us
Written by Wanda Dionne
Thrust into bondage on a Texas plantation, during the Civil War, twelve-year-old Josiah, a freeborn Philadelphia black learns "his place" while maintaining his dignity.
A Yank Among Us is the story of Josiah Williams, a freeborn Philadelphia black adolescent serving as a cabin boy in the United States Navy during the Civil War. Captured at the Battle of Sabine Pass in September, 1863, Josiah is torn away from his comrades at Camp Groce (a Texas military prison near Hempstead) and enslaved by his Confederate captors for the duration of the conflict. His struggle is to maintain his dignity and sense of identity while denied his innate freedom on a sprawling Southern plantation lends this story poignancy and depth.
Eakin Press
Austin, Texas
ISBN: 1-57168-108-6
REVIEWS:
"Dionne's depiction of Camp Groce – the focus of my personal historical research – is strikingly accurate. She has a firm grasp on plantation life and operations as well…."
"Her characterization is rich… Her story is entertaining, yet thought-provoking. The narrative flows quite fluidly, couched in easy-to-understand simple prose… The combined effect of these qualities guarantees that youngsters and adolescents will read and enjoy this novel".
AMY L. KLEMM
Historian, Civil War POW Specialist
What would it be like for a freeborn black adolescent to go from Yankee cabin boy to slave during the Civil War? Author Wanda Dionne takes this fascinating premise and makes it irresistible with memorable characters, clear prose, and more twists than a Texas Tornado.
"A Yank Among Us is an entertaining read for young people from fourth through eighth grade level. Parents and teachers will appreciate an accurate look at a little-known facet of Civil War history."
COLLEEN THOMPSON
Author, The Perfect Victim