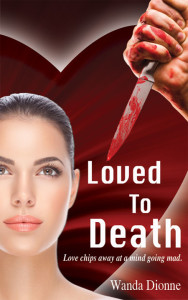 Loved To Death
Written by Wanda Dionne
A novel of madness and murder under the West Texas sun.
Banker Ross could be the quiet man who lives next door. He reaches middle-age only to find himself in a job going nowhere, and with a wife who is so obese she has become a burden. The death of his elderly mother, who has been in his care for five years, leaves him vulnerable and angry. He has no one but The Voice in his head as a companion.
Banker becomes fixated on the new widow in town, the attractive Sierra Martine who works for the D.A. in Riverbend, west of Austin. After a brief encounter when Sierra backs out of a parking space into his blood red van, Banker can't get her out of his mind.
He drifts into sexual fantasies at every turn. He imagines slights and come-ons and takes steps to right the wrongs he perceives as down-right offenses against him. He even rights the wrongs he believes are aimed at Sierra.
As bodies drop, Banker's power grows.
The story is embedded with political intrigue, romance, and the evidence of lust driving a man insane.
All he wants is to love Sierra to death.
REVIEWS:
"If you're put off by slow starts – and what reader isn't? – this is one suspense novel you'll love. Wanda Dionne draws us immediately into the story by introducing believable characters – including an increasingly scary villain – in a process of significant change. Then just as you think you know where the story is headed, it takes a sudden twist and hooks you again, including an unexpected but absolutely perfect ending. Once you start reading LOVED TO DEATH, you'll keep turning the pages even if it keeps you up all night".
— CHRIS ROGERS , author of the Dixie Flanagan suspense series, Death Edge Anthologies and Emissary.
"In LOVED TO DEATH, Wanda Dionne sets the tone on the first few pages of this well-crafted suspense novel, and we know there will be blood, and a lot of it. After the senseless killing of her husband in a grocery store robbery, Sierra Martine leaves the big city for a quieter, healing existence in the small west Texas town of Riverbend. Instead, she encounters Banker Ross, who is gradually losing a hold on reality. His sexual fantasies about Sierra precipitates an escalating downward spiral into madness. He rationalizes that by killing those around her she will be his forever, and anyone who gets in the way of his dream will eventually pay.
LOVED TO DEATH is peopled with believable characters, such as Banker's obese wife Franny whom he mentally abuses and more, Sierra's new beau Kyle, who has secrets of his own, and Gussilee, an eighty-something tough-as-nails antique store owner who befriends both women, Franny and Sierra.
Dionne's deft pen weaves an exciting suspense along with a believable killer, interesting characters and realistic sense of place. I would recommend this novel to anyone wanting a fast-paced, psychological read".
— JACQUELIN PELHAM, Author, Poet and Publisher.
"LOVED TO DEATH is a compelling story of Banker Ross who thinks very highly of himself, considers himself a ladies' man and worthy of so much more than he has achieved. He has managed the local hardware store since high school and dreams of owning the business one day.
The story starts with a fender-bender between Banker and Sierra Martine, an attractive widow who works for the D.A. in the small town of Riverbend. Banker initially becomes angry, but later decides that she did it on purpose to get his attention.
Banker's mental depravity is spurred on by The Voice in his head that makes him imagine things that are not true – such as believing a fast food clerk is flirting and teasing him. What he does to her when he goes back after hours starts his killing spree. His murder count grows as he pursues Sierra. The Voice helps him rationalize the murders, encouraging his boundless lust, and his drift into insanity.
Sierra is drawn to her co-worker Kyle, but begins having concerns that he might be the Courage County killer.
Banker's obese wife, Franny, has her own challenges.
Author Wanda Dionne shows a lot of insight into the character development of Banker's mind and actions. Although you know he is committing the murders, the pull of the book for me was how the human mind can disintegrate under certain circumstances."
—LINDA HELMAN, Writer and Avid Reader